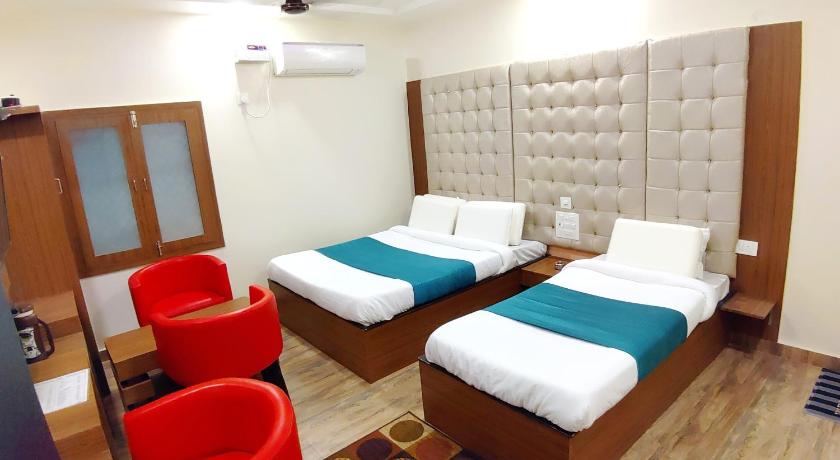 Allahabad is the city that hosts the grandest and the largest Hindu pilgrimage festival that is 'Kumbh Mela' but honestly, this city is much more than that. Though currently known as Allahabad, this place was once named 'Kaushambhi'.
Allahabad was once the capital of Kuru (ruler of Hastinapur) and so when one visits this city, one can see its rich history of it. This place holds edifices like Allahabad University, Allahabad Fort, Anand Bawan (ancestral home of the Nehru family), and more. Not only the Nehru family but this city is the home of 13 more Prime Ministers of India. If one is thinking of traveling here, then they can book rooms in hotels in Allahabad which are more or less at the centre of the city.
Places worth experiencing in the city
Khusro Bagh
This is a quadrangle-shaped walled garden and one can find the four tombs here which belong to the family of Shah Jahan. Spread over an area of 40 acres – Khusro Bagh is the burial ground of Prince Khusro who was the eldest son of Emperor Jahangir. He rebelled against his father when he was just 19. Along with his, this is the burial ground for Nesa Begum (sister of Khusro), Shah Begum (first wife of Jahangir), and Tomolin; whose origin is not known. Though Khusro Mirza was a Mughal Emperor, he never had an easy life. Khusro Bagh is a fascinating place to visit.
Triveni Sangam
Known as the most sacred spot in Allahabad, this is a point where the 3 most important rivers of India Ganga, Yamuna, and the Saraswati meet each other. This confluence is gorgeous and people can easily differentiate between the 3 rivers because the water of the 3 has different colors at this convergence point. It is considered to be an auspicious junction for the Hindus. It is believed that if one takes a dip here then it will help them to wash away their sins and can free them from their cycle of rebirth. During Kumbh Mela, this place is crowded with devotees.
Anand Bhawan
Allahabad has always been a center of politics since the independence struggle. This place is a beautiful 2-storeyed house which is preserved the way it was. It is the home of India's first Prime Minister Shri Jawaharlal Nehru. This is also the house where leaders like Motilal Nehru, Indira Gandhi, and even Mahatma Gandhi stayed. The home has white and blue borders and a library filled with books and is currently one of the most touristy places in the city.
Allahabad Museum
It is considered to be the most organized and well-maintained museum in India. Allahabad Museum is home to a great collection of artifacts and this place acts as a research center for archaeologists, historians, and academicians. This is also the only museum in India that generates its energy with solar power. It is funded by the Ministry of Culture of India.
All Saints Cathedral
Also known as 'PattharGirja' (church of stones), this place is a must-visit when one is in Allahabad. This is an astonishing marvel and the church is made in a Gothic style which was built by Sir Willian Emerson. He was the same architect who built Victoria Memorial in Calcutta. One must see the amazing glasswork and magnificent carvings because they are fascinating. This church is a quiet place and one can spend some moments of peace here.
Allahabad Fort
This fort stands tall along the banks of the Yamuna River and it is an example of sheer architectural brilliance. This fort is said to be built by Ashoka the Great but later it was repaired by Akbar around 1583. Although this fort is under the administration of the Indian Army at present, there is a part of it that is open for public viewing. This looks gorgeous undoubtedly but one should also see the Ashok Pillar there which carries all the edicts.
Chandra Shekhar Azad Park
A park that is rich in history is also known as Alfred Park. This is the location where freedom Chandrashekhar Azad shot himself before British police could arrest him. In his honor, a statue has been erected to commemorate the spot. The park also has statues of George V and Queen Victoria at the center which adds to the beauty of the place.
Kumbh Mela
Though not a permanent thing, this mela drives the greatest number of tourists to Allahabad. This is a Hindu pilgrim fair that is held in four different places in the country. The story behind this is the mythology where God and Demons fought for the pot of nectar (Amrit Kumbh). Most people gather here in large crowds to get a dip at the confluence of 3 rivers to purify their souls before entering the realm of God. Since this festival happens at a gap of every 12 years, millions of people wait for it. The next mela is scheduled for 2025.Ardh Kumbh Mela
This happens every 6th year in Allahabad because it is the halfway journey od the Purna Kumbh Mela. During this time, the place has an annual fair called Magh Mela during the month of January and it goes on till the end of February. The fair starts during the day of Makar Sankranti.
There areplenty options and you can book these best hotels in Allahabad as per your preferences. These days it is easier to book a hotel because one can do that online. Before booking one can also check the hotel, its amenities and the ratings provided by the previous travellers. When in Allahabad – one must not miss the delicious Allahabad cuisine.ShamiKebabas, juicy chicness and thin parathas are the delicacies of the city. If one wants to spend some time in quietness and peace then they can do boating on River Ganga. Boats are available at Triveni Sangam and one can enjoy the beautiful sunset and the bustling views of the ghats. Spending time in the huge Allahabad library is also an option if one loves literature.